A recent rising trend has been noticed challenging the basic fundamental right of Freedom of Speech in our democracy. A recent case against social scientist and writer, Prof. Kancha Ilaiah, is an appropriate example. Kancha Illaiah released a booklet in Telugu, inspired by one of the chapters of his SAGE title,
Post-Hindu India, published in 2009. The booklet became controversial, thus catching the ire of the Vyasa community members for naming their community as 'Social Smugglers'. The author clarified that his book actually aims at removing the social evils to herald an egalitarian and healthy society that is free from caste prejudices.
As the author says in Post-Hindu India "…the book was born out of a gut feeling that the Indian nation is on the course for a civil war; a civil war that has been simmering as an undercurrent of the caste-based cultural system that Hinduism has constructed and nurtured for centuries." He pens a thought-provoking critique of Brahmanism and the caste system in India while anticipating the death of Hinduism as a direct consequence of, what he says is its anti-scientific and anti-nationalistic stand.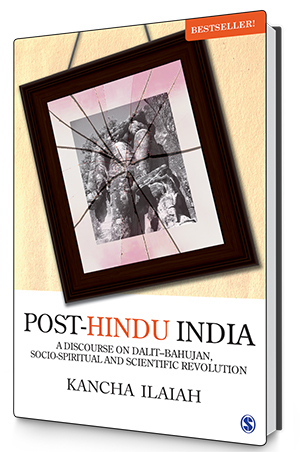 Post-Hindu India
explores the social, spiritual, economic and educational deprivation imposed on the Dalit-Bahujan castes. Kancha Ilaiah critiques the intellectual imagination of the dominant communities and inspires the marginalized.
Read more
Paperback | 9788178299020
Rs 525
Read what critics are saying:
"Ilaiah's book is…a detailed examination of the productive knowledge systems of the Dalit-Bahujan Communities in Andhra Pradesh…. This is an important work simply because it offers refreshing insights into an old religion that is considered to be a way of life in India."
—
The Telegraph
"The book is a reflective account of [the author's] journey through castes and communi­ties and highlights everyday clashes of caste cultures and conflict between "the productive ethic of Dalit-Bahujan castes and the anti-productive and anti-scien­tific ethic of Hindu Brahminism".
—
Tehelka
"The book is a passionate attempt to quench the thirst of the activists who hope for a social revolution."
—
Financial Express
"[THE] chapters are based on Illaiah's deep knowledge of the productive life of the "lowered" castes, and provide illuminating detail of the techniques of production…. Ilaiah's attack on Brahmanism is sharp and pointed, in some spots very convincing…. This is a challenging and useful book.
"
—
Dharma Deepika